Gunnar Liden Executive Director
612.872.4226 ext. 700
gunnar@youthfarmmn.org
@gunnarliden
Gunnar joined Youth Farm in 1999 and spent his first 7½ years as the Program Director for the West Side neighborhood before becoming the Executive Director in 2006. Gunnar has a degree in Philosophy from the University of Minnesota, with an emphasis in Education and Social Change. Prior to his work at Youth Farm, he spent 3 years working at the Jane Addams School for Democracy on the West Side of St. Paul leading a variety of youth organized initiatives. He spent time in 2002 organizing and fundraising alongside the Homeland Project, a group of Hmong teens that he traveled to Laos and Thailand with, in order to visit their homeland and families. In 2012/2013, Gunnar was a Policy Fellow at the Humphrey School of Public Affairs at the University of Minnesota. He has also served as a board member for Community Shares of Minnesota and as a board member/chair of the West Side Citizens Organization in the past. Originally from Pittsburgh, PA, he lives in West St. Paul with his wife, Kate, and 2 children.
Amanda Stoelb
Associate Director


952.220.0953
amanda@youthfarmmn.org
Amanda started working at Youth Farm in 2004 as an Americorps member and continued that work for two years. She was the West Side Program Director from 2007 – 2011. During her time as Program Director, Amanda became an accomplished organizer with youth, developed Youth Farm's in-school and after-school greenhouse programming, and was the driving force behind the development of Youth Farm's progressive programming model. She was hired as Youth Farm's first Associate Director in 2011 and has been a key element in Youth Farm's expansion into new neighborhoods in 2011-2012. In 2012, Amanda was a part of the After School Matters Practitioners Fellowship. She is also a birth doula and serves on the Board of Directors of the Childbirth Collective. Amanda is a graduate of the University of St. Thomas with a degree in Justice and Peace Studies/Spanish. Originally from Sheboygan, WI, she currently loves living in the Powderhorn Park neighborhood of Minneapolis
Sarah Sarzoza 
Director of St. Paul Programs


651.325.7453
sarah@youthfarmmn.org
Sarah was hired in summer of 2014 as the Frogtown Program Director and became the Director of St. Paul Programs in 2016. She has a wide repertoire of youth development work in the twin cities under her belt, but her love for Saint Paul and strong desire to foster leadership in young people brought her back to the Frogtown neighborhood. Sarah is a long time friend of Youth Farm and a trained Community Organizer. She is excited to be a part of the dynamic work being done by Youth Farm. In her spare time she enjoys cooking up storms of good food with her family, teaching yoga to toddlers, and traveling to warm places. She has an extensive collection of earrings from around the world that she takes great pride in. Sarah graduated from University of MN Duluth in 2007 with a degree in Spanish Studies and Psychology.

Heather Wiitala Business Director
612.872.4226 ext. 701
heather@youthfarmmn.org
Heather started as a student intern in 2000 from the University of Minnesota. From 2000 – 2005 she worked in the Lyndale Neighborhood Youth Farm as summer staff, serving as the Assistant Lyndale Program Director in 2002, and became Business Director in 2002. Heather provides strong business and financial leadership with the executive and program staff, as well as the Board of Directors. Originally from Mt. Iron, MN, she is a graduate of the University of Minnesota with a degree in Sociology.

Marcus Kar North Minneapolis/Hawthorne Organizer
612.222.5280
marcus@youthfarmmn.org
Born in West Africa, raised in Minneapolis MN, Kar is a multi-instrumentalist who has been making music for over a decade, working in soul, jazz, rap, metal, folk and blues with a long list of Minnesota recording artists.
Also serving as Director of the Free Range Music Cooperative,
an emerging network of professional musicians, organizers and promoters spearheaded by Kar
, the Co-op. grows to meet the challenges of its broader mission: "To help build and maintain vibrant relationships between communities, educators, musicians and artists."

Zainab Youngmark Powderhorn Farm Steward
612.401.8303
zainab@youthfarmmn.org
Zainab grew up through Youth Farm in the Powderhorn neighborhood as a child into adulthood. She began her work as a LEAD staff in 2010. Zainab has worked as an adult staff with various farm steward responsibilities for the year of 2015. She is currently a Powderhorn Farm Steward including serving as summer program manager. She is also a full time college student and a freelance photographer.

Jesus Perez South Minneapolis Program Manager

612.872.4226 ext. 705
jesus@youthfarmmn.org
My name is Jesus Perez. I'm 22 years old, originally from Michoacan in the western part of Mexico. I've been involved with Youth Farm for more than 10 years. First I started as a Youth Farmer. From that I move to be a Project LEAD staff, and this will be my 4th year as a Farm Steward. What I like the most about Youth Farm is that am helping my community and most importantly helping youth with different skills. I feel like a role model to the youth that participate in the program, so I am always trying to do my best in everything I do. Youth Farm is not only about farming but also about building so many skills and becoming a better community. That is the reason for my participation in this program.
Jordyn Ryan School Partnerships Coordinator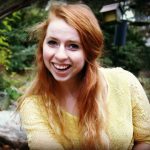 612.872.4226 ext. 709
jordyn@youthfarmmn.org
Jordyn
became a part of Youth Farm at the age of 9. She grew up in Saint Paul and has been a part of the West Side Youth Farm for almost 15 years. She has taken on many positions through out her years there such as Lead staff, Harvest Coordinator, Adult Staff, and Farm Steward.  She is now Youth Farm's School Partnership Coordinator. This job will allow her to combine her Elementary Education teaching degree along with her knowledge and love of gardening.

Sergio Antonio Arredondo-Payan 
Hawthorne Farm Steward
952.220.0953
sergio@youthfarmmn.org
My name is Sergio Antonio Arredondo-Payan, I've been involved with Youth Farm from my middle school years all the way to high school.  I've always been involved with my community, and I  would of never imagine working for Youth Farm if it had not been for JP, the first program director at Hawthorne. I started off as a participant and then Project LEAD for 4 years and now I am a Farm Steward/Manager – Who would of seen that, not me! But after all, I love Youth Farm because it has taught me a lot about my community, growing veggies, and having fun. I'm thankful for all of what Youth Farm has done for me and would like to thank Amanda for keeping me in the loop. Also thankful for all the people I have worked with, it has always been awesome.

AJ Zozulin 
Frogtown Farm Steward
651.955.6593
aj@youthfarmmn.org
AJ started his work with Youth Farm in 2011 as an intern during the Frogtown neighborhood's first year of summer program. Since then he has returned as a summer staff in 2012, 2013, and 2015. This year he is thrilled to take on the role of Frogtown Farm Steward and work to strengthen the community and neighborhood where he lives. When he's not at Youth Farm, AJ spends his time cooking at Trotter's Cafe or at home, feeding his cat, biking between jobs, working in his own garden, or drinking coffee. He also collects aprons and chopsticks from all the places he visits and is currently collecting garden gnomes if you're trying to get rid of any. AJ graduated from Macalester College in 2014 with a degree in Classical Languages, which on the one hand is not a field he will ever go into, but on the other hand has led him to the place he is today. It's a good place.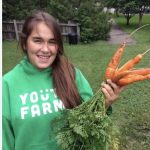 Yasmin Banishoraka 
Lyndale Farm Steward
612.872.4226 x710
yasmin@youthfarmmn.org
Yasmin began Youth Farm as a Youth Farmer at the age of eight and has now participated for the past 11 years. Prior to starting as a Farm Steward, she was a Project Lead. During her time as a Lead Staff Yasmin feels Youth Farm encouraged her to take on bigger leadership roles within Youth Farm and the Lyndale neighborhood. She is also a full- time student, serves on the Lyndale Neighborhood Association Board, and studies Herbal medicine.